Of sublime moments and aching knees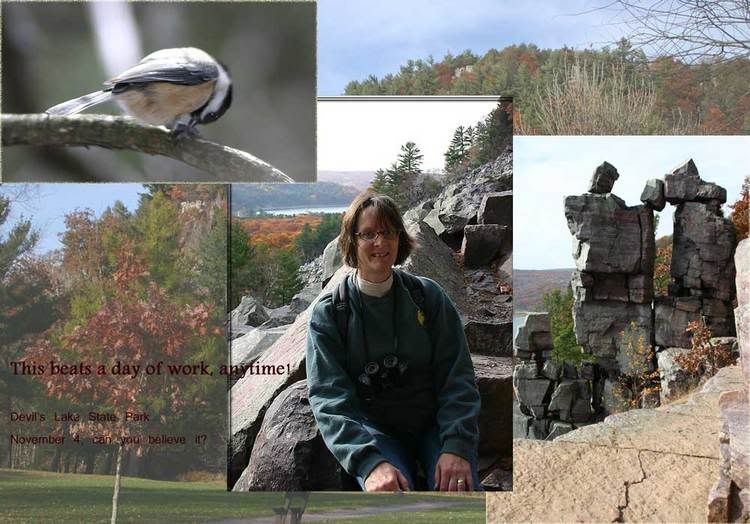 I have a career. It's teaching, special education to be more precise. It helps pay the bills and I feel lucky to have a job where I can play with little kids and tell them stories and call that "work." Like any job, it has its less desirable aspects as well; late nights for parent-teacher conferences, lunch duty, and way too much paperwork. I rewarded myself today for getting all my end of the quarter paperwork finished on time by granting myself a road trip to enjoy this unseasonably gorgeous fall. Part-time teachers can do this and post about it on the internet, because we get days off and don't have to pretend we're sick.
I'd heard reports of Townsend's Solitaires being seen in
Devil's Lake State Park
, and what the heck, if I saw them or not, it would still be a great way to spend a day. I headed on down the road and arrived at the nearly empty park, ready to take it all in.
This was not my first trip to this park. My last was in, let's see,
1978
. I was a graduate student and came down with two fellow students to escape studying for a day to try our hands at rock climbing. I made a couple ascents and one rapel and remember it as a lovely, if a bit misty, day.
It's still a lovely place. My knees, however, have born the slings and arrows of chondromalacia, torn ligaments and other nasty things, mostly from marathon running days, but also from having two children. I tend to forget this until I'm coming down a trail, however, which is a good thing, because I still get out. Like today.
Climbing up the Balanced Rock Trail, I was given to moments of reflection regarding just how phobic I am about edges. This trail would do that even to those without such phobias, but I reminded myself I've climbed all kinds of things and survived to tell the tale.
Partway up, such thoughts were deflected when I saw a flash in the tops of some pines. Was that my target? I aimed my binoculars and saw that yes, off in the distance was the bird I sought! He flew off into some other trees I couldn't see, and burst into full song. Glad for light breezes, I enjoyed the serenade until....a train was bold enough to come through on the tracks running below me at ground level. My bird took wing, and I heard the "theep" calls, my eyes following. I decided I'd sit where I was, waiting to see what might happen. My back against a huge rock wall, I enjoyed the scenery, when suddenly, movement caught my eye. There it was! No more than 20 feet in front of me! I took a couple lousy photos, due to the lighting, then made a decision. I could try to move slowly into better light for a better photo, or sit and enjoy the bird. I enjoyed the bird. He preened, surveyed the fall colors, relaxed, then tired of this spot after about 10 minutes and flew off.
I didn't see him again, but I made my ascent to the top, following the East Bluff Trail, clambering goat-like down to the Devil's Door, then back up and along the rim, skirting the rock face I'd climbed all those years ago. Traversing the rock strewn trail down to lake level, I enjoyed the company of Golden Crowned Kinglets, various woodpeckers and nuthatches and the playful Black Capped Chickadees.
Tomorrow it will be back to school, another story to tell my students, more paperwork to finish and the weekend ahead. I'll carry the images of the day, including the music of the Solitaire with me into the last hours of wakefulness..and perhaps beyond. My knees, however, will remember the trek for at least a week, by which time they'll have stopped hurting, I'll forget, and perhaps head out for another challenging hike.