Into the forest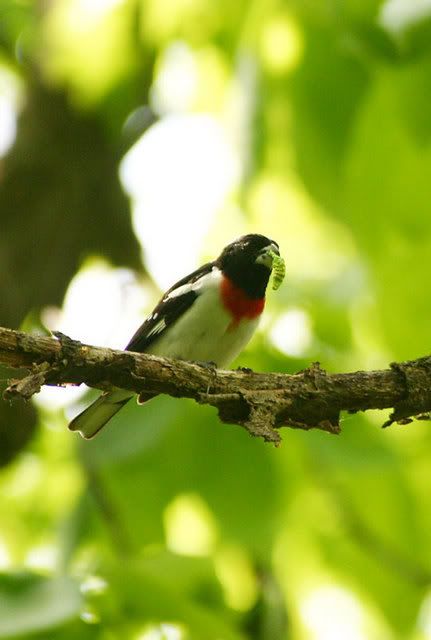 In fairytales, girls who wander into the forest often face challenges, even danger. They lose their way. Maybe it's the storyteller in me seeking to live a fairytale that led me out into the forest this morning. Maybe I just wanted to lose myself.
There is an enchanted forest not far from home that I love to explore, especially in the springtime. The trails meander up and down the slope through prairie, sumac and honeysuckle stands, hardwoods of oak and hickory, leading through rocky outcrops that rise up out of the earth. Spring ephemerals glow in the morning sunlight; mayflowers, nodding trillium, Jack-in-the-pulpit mingle with hillside carpets of tall ferns. For watching birds, it is sublime; one can stand and look up the hill and see what's calling from the underbrush or look at treetop warblers from above. This morning, the forest was alive with the music of birds, especially Tennessee Warblers. At every turn, three or four of them were singing from the treetops, trying to own their space. At the edges, the "bee buzz" of Blue Winged Warblers could be heard. Deep in the forest, the strange call of the Veery preceded its rare appearance, bird of the forest floor that it is.
Rose Breasted Grosbeaks seemed to be everywhere, and though the leaf cover of the forest made photography a challenge, somehow I was rewarded with views of one nabbing his breakfast. A pair of Grosbeaks was seen together, allowing a good look at the difference between the boys and the girls of this species.
At one point, the calls of a pair of Pileated Woodpeckers grabbed my attention. They always do. While waiting to see how close they would come, it seemed that the birds of the forest close by exploded around me, dropping practically to eye level on all sides, their singing intensified as if to draw my view back to them.
I wandered, enjoying the sense of being lost in the woods, though I knew that eventually I'd find my way back to the blufftop prairie. The only real danger I faced was the strong desire to simply stay where I stood, amidst the ferns and stands of red pine, smelling the life of the forest floor and scent of honeysuckle, birdsong swirling about my head. As in most fairytales, the spell was eventually broken and I returned to life as I usually know it. Still, as I wandered the aisles of Target, my imagination was hearing not the Muzak of the PA system, but the music of the forest. Ahhh!