Seasons change
It seems not so long ago that I walked these trails and had trouble spotting movement among all the leaf cover. It seems not so long ago I walked these trails and stared Great Blue Herons down from 15 yards--at every turn. It
wasn't
so long ago, perhaps just a couple weeks. The leaves are almost all down, and the seasons are changing in the marsh once more.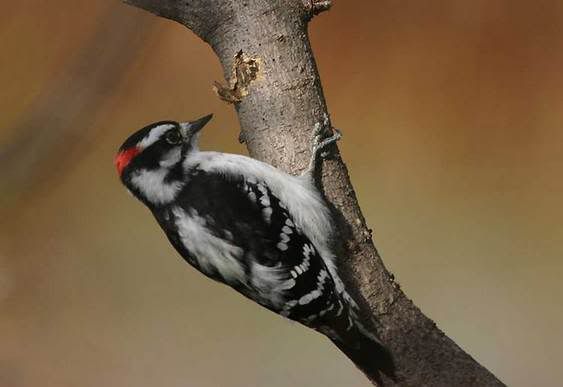 Walking to the trailhead, it struck me with the same blunt force as the cold autumn wind blowing across the open marshland. The marsh, before barely visible through the brush, is now easy to see. Birds, however, still have a way of staying hidden, even in plain view. I heard small chirps and peeps almost as soon as I stepped to marsh's edge, but it required my vigilance to finally see what I'd been hearing--a Downy Woodpecker. This one was more accomodating than some I've tried to shoot, and the resulting image shows just why they earned the name "Downy."
It was surprisingly quiet as I walked throughout. A few chickadees, about 30 Canada geese with a few mallards mixed in and the occasional Cardinal. That was really about it. It was still nice to be out and enjoying the brisk fall afternoon, and I was musing on that when my eye strayed to the top of a dead tree out in the marshland. It was one of the trees that often allowed a heron or egret a perch during the summer, but they were all gone now. Binoculars up, I realized that the big hawk I thought I was seeing was an Osprey!
At that moment, I was glad I had a good command of all the deer paths throughout the marsh, because I headed for the one leading away from the big cottonwood tree and into the deadfall's hollow to get a closer look. Slowly, I followed the path, watching in amazement as the Osprey kept working over whatever it was having for dinner. Occasionally, it would open its wings, but I'd freeze and it would relax again. I could hear its chatter, a sound unlike anything one would expect from so majestic and powerful a bird. It sounded like nothing so much as a rubber duck and a chatty one at that.
I continued my slow approach, the whole time wishing it was just an hour later in the day for nicer light--always the photographer's dream. Still, I was able to capture an image before it lifted its huge wings, took its fish in its talons and began a low circling of the marshlands, two times before settling in on a tree further afield. These are the moments for which birders live.