Feathers from heaven?
Fair warning; this post will contain nothing of objective scientific observation. Instead, it wanders into what my storytelling friends call "woo woo" territory. Be forewarned.
One of the joys of having varied interests can also be one of the frustrations. Though passionate about birds, bordering to the point of obsession, I do have other things I enjoy doing as well. One of them is geocaching, which does get me out adventuring in the wilderness, but since this is an activity shared with my peripatetic husband, any birding has to happen incidentally. We've been doing a lot of geocaching this summer, thus my serious birding activities have been on a downswing.
My other big passion and sometimes job, as regular readers may recall, is storytelling. In fact, with one exception, all my close friends are also storytellers. I have found myself combining these two passions into a little niche market. I've collected or created a series of stories that entertain while educating the listeners about various aspects of birds and the lives they lead. You want a storyteller who can fit your "Wing Ding" theme for a park event? I'm your girl. I'm pretty adamant that any stories for such venues, though they can have birds that talk and such other elements of imagination, maintain accuracy about the birds and their behavior.
Given that, what comes next is where things enter into the realm of woo woo. Last Friday, a dear friend passed from this world to the next. It was very sudden and all too quick. Symptoms first appearing in a fabulously healthy person on July 1, passing quietly on August 24. I'd been holding her close in my thoughts since her journey began, and was visiting family in northern Wisconsin when the word came Friday evening.
Saturday morning, my husband, his brother and I set out for a geocaching marathon throughout the forests and lakes of the Nicolet National Forest. I had my birding gear along, knowing that if anything interesting came by, my husband was sufficiently entertained by his brother for me to wander off with binoculars in hand. Almost right away, as we headed into the woods, a flash and a chuckling sound caught my eye. I was off. Camera in hand, I put my new found skills in "pishing" to work, calling in a family group of curious Gray Jays. These birds don't live near me, so I was delighted to have good looks at these "camp robbers." Even more delightful, one paused long enough to give me a quizzical sidelong glance while I took a photo.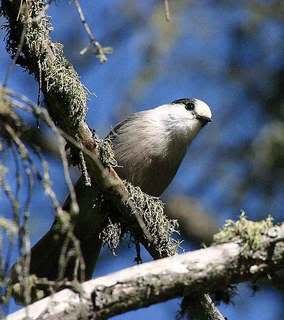 I saw and enjoyed other birds throughout the day. When we returned home Sunday night, I was delighted to hear the whinny calls of an Eastern Screech Owl late at night outside. I have not heard them near my home before, and it led me out into my backyard late at night in my pjs, looking up at the stars and hoping for a shadowy flight across the sky.
Today, as I sat writing my
tribute
to my friend Leanne on my storytelling blog, just as I put my final touches on it before hitting "publish," something outside my window caught my attention. A female hummingbird was at my feeder! I typically don't have them coming until this time of year, but still, the timing of her first appearance of the season struck me as more than coincidence. My friend Leanne knew well my fixation for things avian. She regularly sent me horrible birdy puns and helped me in my search for "real" bird stories when I was developing my program. I just can't help but think that these birds, whose wings bring them closer to heaven, were messengers to grab my attention, Leanne's way of letting me know that everything is fine and we'll tell stories together again one day. Leanne, we all miss you down here already, and thanks for sending those birds my way. Till we meet again......