Life is good!
My weekend promised to be wonderful. Husband out of town, kids busy with work or other activities, time to myself. On top of that, the weather was predicted to be nice. Perhaps just a little too nice for
some desired activities
, but perfection is a goal, not a given, right? Time for....intensive birding!
Word was out that some Short-Eared Owls were roosting at Beaver Creek Wildlife Management Area in far southern Minnesota. These owls are not forest hunters, but hover low over wet meadows or fields, plunging down to grab their prey. They will maintain winter roosts in dense vegetation near such areas. They take up the night shift after the Northern Harriers retire for the day. Reports were coming in of wonderful late afternoon shows by up to six owls. Checking various routes on Mapquest, it looked to be about an 80 mile drive one-way. I have this "rule" that I travel no more than 30 miles to go birding. Where I live in the heart of the
Upper Mississippi Wildlife Refuge
is a birding mecca for others. Between the river, floodplain forests and varied bluff and upland habitat, there are so many birds to see right near home. The big picture reason for my rule is sustainability. To get to these distant places requires gas. More gas. Dependence on fossil fuels has a significant impact on the environment, and this is one way I can lessen my impact on it. Sonetimes, maybe twice a year, I'll make an exception to my rule. This would be one of those times.
So Saturday afternoon, I headed west. Watching for birds along the way, I saw Bald Eagles of course, as well as Kestrels, Red-Tailed Hawks and the ever present Crows. I suppose it's possible that some of the hawks I saw may have been Harriers or Rough-Legged. My raptor id skills on sight are not stellar.
I've traveled most of this route before, but the last leg of the trip, into
Harmony Minnesota
, was new to me. There is a large Amish community in the area. The road itself is signed as "Amish Byway." I was surprised that even into the late hours of the day, a couple of buggies were still making their way home, waving as we passed each other. Harmony itself presents itself to westbound travelers as an American icon. Old-fashioned water tower, grain silos, feed mills all line up like a 40s style small town picture postcard. Part of me wanted to just stop here and capture the image in the sunset. That wasn't my plan, so I kept on driving.
Following the directions to the stand of spruce trees along the small management area, I laughed inwardly to see several vehicles, and people with big scopes or binoculars around their neck already in the area. A blind with enormous glass was parked right in front of a group of trees. There was never any movement at all from it. Thinking that perhaps this person had done some homework, I stayed near this area.
Another birder wandered over and we talked bird. It always amuses me that birders love to talk while waiting for birds. I know there are things we could be hearing if quiet, but it's satisfying to meet others who are equally crazy and can relate to one's obsession. Reports had said the birds were flying out of the roost around 5pm, and it was well after that without any sign of activity. It was very quiet overall out here. Turning to scan the fields to the west, the sun was becoming its wonderfully dramatic self. Driving all this way, I felt I needed some photos to show for my gas consumption.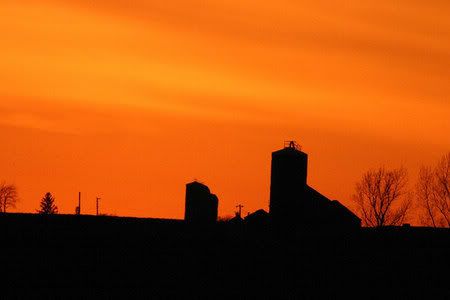 Shortly after 6pm, I saw it. Movement beyond the trees, on the other side of the field. Binoculars up, it was the beautiful sight of a Short-Eared Owl, almost ghost-like in the fading light with its light coloration, sailing low over the field, then plunging down. It lifted up and then flew with a purpose below the ridge. Other birders watched similar shows of three owls on the other side of the road. There was a second owl repeating the hunt on our side. My new birding friend and I went out into the field some distance to see if we could spot where the owl had gone to eat, but to no avail. Since it was getting dark, we had to look down on our way out, and rodents were literally criss-crossing in front of our every footfall! No wonder the owls had found this spot to their liking.
All birders congregated. We watched the blind come apart, then someone said, "Time to go home." It was. Darkness had covered the field, though we could hear a Great Horned Owl somewhere off in the distance, proclaiming its territory. Knowing my two teenagers would be home within a couple hours, I reluctantly headed back. It was a good day birding, even if lousy for photos. Not everyone had been unlucky over the weekend.
Ron Green
, who posts to the
mnbird listserv
, had spent time over the weekend here as well. In fact, in a small flurry of email conversation, we deduced that it was he who was leaving just as I arrived there. He had no luck on Saturday either, but shared that Friday and Sunday, the owls were putting on the grand show many have experienced. He was able to get a
wonderful photo
, which you can see at his site. If one looks through the wonderful images he has made, you'll find a similar sunset shot to the one I made. He told me he was getting bored and needed to shoot something. How well I understood!
I was not lucky like Ron. I may just break my 25 mile rule one more time to see if I can have a little better look at these gorgeous owls. Even though my trip was in vain photographically, I enjoyed the peace and quiet of a back road, the company of other birders, and the sight of owls immediately successful in their hunt. Life is good!