A break from real life...
Lynne commented yesterday on one of my other posts that one of the reasons she is attracted to birding is that when she's watching birds, the past and the future all fade away, leaving only the present. I hadn't really thought of it that way, but it's true. How many of us have stood glued to our scopes or binoculars, watching the show, only to discover an hour has passed in that time that seemed to be but a minute?
I gave myself the gift of the present for an hour or so after work the other day. The past and the future have been nothing short of daunting this summer, leaving me tired and on edge most of the time. A warm afternoon, coupled with listserv reports of lots of migrants, sent me to a favorite trail in a county park just south of the school where I teach.
The present, on that day, was pretty quiet. Even the numerous Black-Capped Chickadees and various Woodpeckers were keeping a low profile. No matter. I could walk, stop, listen and look, and even if I wasn't seeing much, I was in the present...all cares momentarily forgotten as I snapped to attention with each flutter of the treetops out of order. The warmth of the late afternoon sun, the tang of earth as the leaves begin to fall off and add to the cycle of life on the forest floor, the little chirps overhead, all conspired to let me relax and forget for a short time.
There were a few migrants that showed themselves from time to time. American Redstarts, fanning their tails and chasing about, Magnolia Warblers, a bit duller but still quite dashing, and the plaintive, persistent cry of the Phoebe.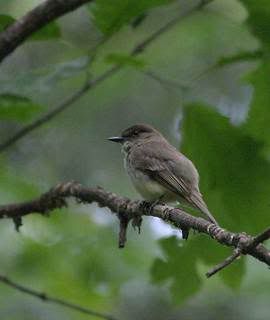 Along about 5pm, as I meandered the acorn strewn trail back toward the small parking area, an old friend began calling just on the other side of a brackish pond along the trail. "Who cooks for you, who cooks for you all?" I've talked with this
Barred Owl
many times before, even had some face to face conversations on occasion. Today, it didn't want to call back to me. That fact brought me back to the reality of life, the one where communication is strained at the moment. Still, it was an appropriate reminder that, though communication is challenging, I still needed to be home, because, after all, I'm the one who cooks for all my folks.
I will make another appointment for escape soon. We all would do well to take Lynne's advice and escape to the present for a time as we sit in nature. Life will still be there when we return, and we can face it better when refreshed.