Conversation with an owl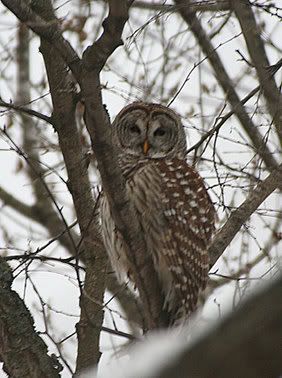 A slightly fuzzy looking Barred Owl
Silently flying through the woods, a Barred Owl crossed my path today, setting the stage for what would come later---a moment of connection.
In what seems to be my winter pattern on my treasured "day off," I ran a few errands, then set off on the trails for some silent bliss in the snow; cross country skiing. My skis followed a little loop I've hiked often in Goose Island County Park. We haven't had much new snow, so the trails were not that wonderful deep fluff, but rather a rut akin to those left on the Oregon Trail. No matter. I was all alone, save for the company of the birds. Every so often, I'd stop and listen. Tapping was a common sound, with many woodpeckers at work. The occasional White Breasted Nuthatch helped the Downys, Hairys and Red-Bellies search the trees. If I stopped and listened long enough, I'd hear that comical wacka-wacka call as two met on a tree trunk.
I explored off the main trails, something I seem to do no matter what the season. It's a compulsion for me. I don't know if it's because I fell asleep under a photo poster with that "road less traveled" poem my entire freshman year in college or not, but if there is any small indication of such a "road," it pulls me. This appeared to be perhaps one made by an ice fisherman, sled tracks alongside boots. I followed it to the edge of what I knew to be a backwater. A flash of movement caught my eye right along that edge. Stopping and waiting, I finally was treated to the foraging of a tiny Winter Wren. We enjoyed each other's company for a time, and then I turned around and headed back to my car, to begin the second phase of my winter day off ritual.
Exchanging my ski poles for my binocs and camera, I walked back alongside the ski trail. It was just as I started back that the owl crossed my path, very close in front of me, so close that I was breathless at the encounter. It perched for a moment high in a tree behind me, then, like me, continued on in its journey. I went on to enjoy a large mixed flock of Black-Capped Chickadees, Juncos and Tree Sparrows as they worked some remaining seed heads, jumping into the snow to retrieve any that had fallen. Meandering along the trails, I spotted a Tufted Titmouse. Watching and "pishing," I got good looks at its behavior, as it was joined by two others, poking into the twigs near the treetops.
I'd enjoyed my small feathered friends, but I knew that big one was somewhere about. I'd called Barred Owls in once before, last spring. It was completely still. I hooted---and waited. From far off, I could barely hear a response. I moved forward a bit, calling again, twice. Once more, I heard another distant response. Calling once more, I heard nothing this time, and continued on.
As I was almost back to my car, I decided to head back toward that "road less traveled" I'd skiied a couple hours earlier. As I made my way over fallen trees, something of size and silence passed before me again. I stopped. It always amazes, delights and frustrates me that a bird so large can be so difficult to visualize once alighted. I stepped closer, and it watched me. Not wishing to go too close, I stopped at a point perhaps 50-75 yards away. Looking into the eyes of an owl, you experience an almost mystical connection, one that explains the high regard owls are given in many cultures. I took photos, fighting again with the fogging and focus problems of winter. Then I stepped further back, the owl and I silently appraising each other. After perhaps a half hour like this, the owl decided to move along. It was approaching sundown, and maybe she wanted to head to her hunting grounds for the night. Today I took the road less traveled by, and that has made all the difference.