I just love these guys!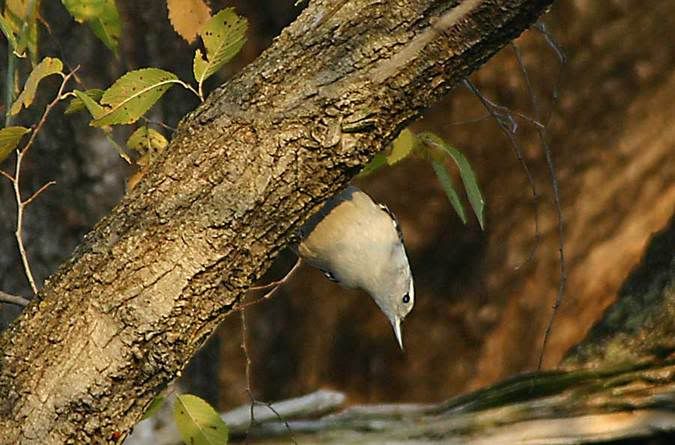 So, the choice was the Trempealeau National Wildlife Refuge, where the waterfowl were viewed facing into the sun and the small birds were plentiful but evasive. Three new birds for the year----Cackling Goose, Northern Shoveler and Brown Creeper. Tantalizing but all too quick views of several Red-Headed Woodpeckers. And these Nuthatches, they just make me smile!
There were other varieties of nuts on the Refuge as well, bird nuts, as it were. Heading off the Pine Creek Dike trail, I just couldn't help but notice a group of birders who'd gathered on the viewing deck. Birders are easy to spot from a distance. Huddled groups, all with binoculars in hand, peering in one direction as directed by the Most Knowledgeable Birder (or the one with the best eyes/ears) pointing off in the distance. The presence of a minimum of two big spotting scopes is usually the key field mark. Sure enough, these folks were here from the Horicon bird club, doing a little birding before hitting the
Rivers and Bluffs Birding Festival
in Lansing Iowa tomorrow. I introduced them to my non-birding husband, who of course, being a non-birder, was not with me.
It appears he will be a birder at least for tomorrow, though. He's agreed to come along to the Festival with me, enticed, I do believe, by the prospect of blues music tomorrow night, provided by
Joe and Vicki Price
. Maybe I'll even add a few non-Coulee Audubon birders to my life list in the process.
Although the outing was not all that productive from the standpoint of avian photography, I managed to get a shot of a charming little woodland creature, frozen in the leaf litter at close range. Owl bait, I'm afraid, but at least he's been immortalized here.