What do you take for granted?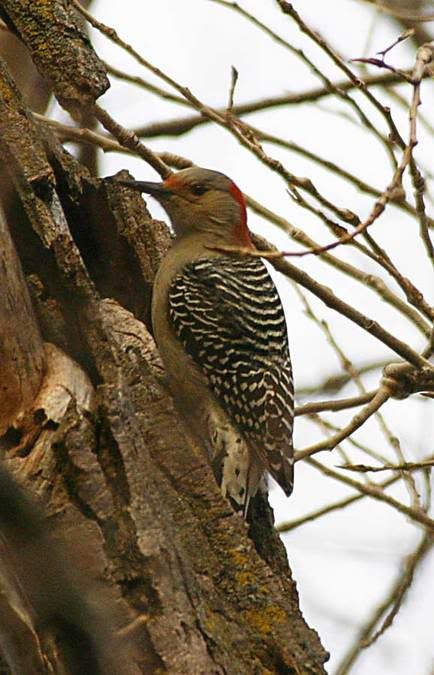 This Red-Bellied Woodpecker is a bird I can count on seeing almost anytime I go out birding. They even show up in my small town backyard. A look at the range map suggests that any of you living in the eastern plains states to the east coast can find him, too. The National Geographic Field Guide to Birds says "common in open woodlands, suburbs, parks. Are extending breeding range northward." Any bird that allows me to enjoy it at close range, whether it's a common one like this woodpecker, chickadee or Bald Eagle is a treat. Bald Eagle, you say? Yes, where I live and bird, in the heart of the
Upper Mississippi River Wildlife Refuge
, Bald Eagles have become a common sight. My commute takes me on county roads through farmland and blufftops. The past two days, a Baldie was perched in a tree overhanging the road. A birder from Minnesota reported on the mnbird list the other day counting "loosely 150" hanging out along the river bluffs at one spot. Birders are not so foolish to say we can take the gift of our Bald Eagles for granted. Most of us in my age group can remember a time when we had never seen a Bald Eagle. Though we don't take them for granted, we do take them as a common sight on our local bird outings. However, there was quite a bit of excitement late last summer in the state when a couple people were seeing Green Violet Eared Hummingbirds at their feeders. If you're reading this from the Hill Country of Texas, you might be thinking, "So?"
Which is my point exactly.
Birders are also naturalists. To enjoy and appreciate what we see, learning about the different species, their behaviors and habitats happens naturally. So intellectually, we know that some birds are common in some places and not others. Still, when I was reading the
B and B
blog account of a trip to see the Whooping Cranes at the Aransas National Wildlife Refuge, I was taken aback by the comment Peter made that he also saw Sandhill Cranes for the first time ever. That's another wonderful sight that is very common here starting in spring into late fall. It got me thinking--always a dangerous thing!--about which birds I see so often that I long for something new, that might be a lifer for birders elsewhere. Living in the northern tier of the US, there are some species that I enjoy throughout the winter that those of you in the year-round warmth won't see unless there's some freakish movement of nature. Great Grey Owls, Northern Hawk Owls, Common Redpolls all move into the area from north of the border, treating me on my outings, or sometimes even while cross-country skiing up north, with their presence. The call of the Common Loon is common at the family cabin. In my part of the country, if I keep my eyes tuned for them, I get to see the warblers for a window of about four months, but those four months are when the males are looking like a "sharp-dressed man" and singing opera for the ladies! By the time they hit the beaches, they are wearing their winter couch potato sweats.
All of this makes me wonder....what life birds would you want to see when you travel outside your local area? I have yet to see a California Quail, though I make annual trips to visit friends in Napa Valley. I'd like to see any hummingbirds besides a Ruby Throat, though I was treated to a female Anna's in Napa last spring. Puffins have long been on my must-see list. What birds are on your "must-see" list?