In the summer, my hair turns red!
It's true, my Irish heritage reveals itself more clearly after time out in the sun. Not blazing red, of course, but red enough to once cause a snobby hairstyling instructor to lift up my locks for the class and proclaim, "She's henna-aad her hay-er," only to argue with me when I proclaimed no colorants had ever been in my tresses.
Not just my hair, however. I had a lovely afternoon yesterday, and it involved birding, not a beauty salon. At least not a salon of human creation. A woman had posted on the wisbird list that while checking her bluebird trail, she'd spotted some Dickcissels in a field in a rural area. As some regulars might know, the Dickcissel was my unwitting 200th bird last week, but I had nothing to show for it, having left the camera home. Heck, had the camera been with me, it still wouldn't have mattered. As it was, I couldn't ID the bird until a couple days later.
Since this woman lived in a town only 20 miles from here, I contacted her to see if she would share directions for me to find this field and bird a new area. She wrote back, telling me to just come on up and we'd go together. It would be easier to take me there than give me directions.
I headed up the road, crossing into nearby Jackson County and met her at her home. The first thing to greet me as I pulled into her driveway was a flashy Red-Headed Woodpecker on the power pole near her garage. Upon meeting my hostess herself, I stepped into a lovely backyard refuge, alive with birds. The Woodpeckers were nesting along the stream somewhere adjacent to their property and visited the feeders often.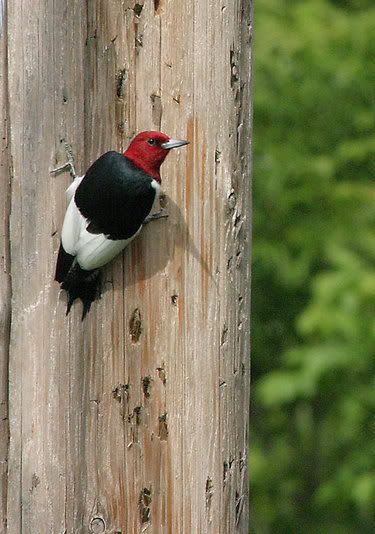 We set off down the road, travelling onto curvy rural routes. I'm always struck by the fact that the landscape can change so much from my rocky blufflands to the sandy, more coniferous forests in a space of 20 miles. Much of our travels took us through Amish country, friendly greetings from two little boys and a little girl playing in the sandy dirt at roadside. We reached the field where the birds had been seen earlier, and it was pretty quiet. We saw little birds flitting into and out of the tall grasses, glimpsing something every so often on the fenceposts or power lines.
One little bird perched nicely in front of us, and Joan noticed white outer tail feathers. Checking the book and re-checking my snaps enlarged on the digital screen, we confirmed we'd seen a Vesper Sparrow. Neither of us had seen one before, at least that we knew.
A Northern Harrier cruised the field just before we left, giving us another great show. Moving on, we came to another fallow field, next to an area with grazing horses. The windows on the car rolled down, we heard, then spotted, Bobolinks in this field.
Returning after a couple hours spent watching and chatting, we pulled into the drive of my new birding friend, greeted once more by a Red-Head, this time with the sun reflected off his feathers.
One new bird + one new birding friend + one nice photo = one great afternoon well spent!