Birding with a non-birding spouse; yes, it's possible!
My husband doesn't share my passion for birding. He'll come to events, like the
Festival of Owls
, if food is involved. I've tried taking him when I hike in some of my favorite spots, but gregarious soul that he is, he just talks. And talks. Not easy to spot birds if your companion is yakking away! I think we have finally hit upon a solution. Fishing.
Yesterday was the opening weekend for inland waters fishing in Wisconsin. I used to fish, but I realized it wasn't catching--or even releasing--the fish I enjoyed, but being out there. So yesterday, when my husband set off for a favorite valley not far from home, I came along. He didn't talk, because you know, that scares the fish off. I didn't fish but wandered the valley in search of birds.
This valley is a particularly lovely example of the countryside in which we live--a coulee. Farmland filled the small gap between streamside and roadside, allowing for some habitat variety in close quarters.
As I climbed over the stile to the stream access, I immediately heard the plaintive singing of several Field Sparrows claiming their territory. It took much longer to finally see them, one perched high in a tangled old tree halfway up the side of the hill. Savannah Sparrows were singing in a much more open location, open enough that I hiked back to get my camera.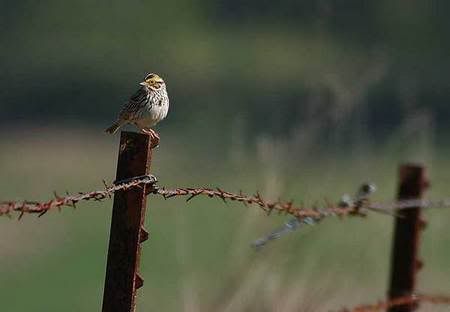 I enjoyed an entire morning of wandering up and down the streamside. I spotted birds I don't usually see in my more wooded forays, and spent quite a bit of the morning pursuing these bobbing birds with a whistling call I knew I recognized from my
"Who Cooks for Sam Peabody?" CD
. They were wary, and they blended right in with the unplowed fields or cow pies they sat upon. It wasn't until we were leaving that I spotted one right under the bridge. Stopping to look, it flew upstream just a short distance, and I slowly moved forward until I spotted it...sitting in some grass on an undercut in a bend in the stream. Slowly...a step at a time...I approached, taking pictures each time. I noticed it fluffing and bobbing more frequently, as if preparing to take wing once again. One more photo...and it was off. Though I've seen Solitary Sandpipers before, this is the first time I've been able to really watch them and enjoy their habits, instead of spotting them as we paddle just before they fly further downstream.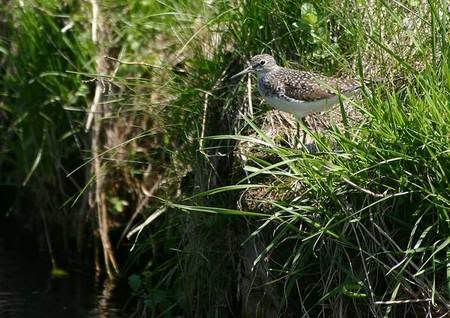 My husband caught some trout, I caught some birds. We both went home happy, enjoying a quiet morning out. Life is good!