In which Gwyn learns to appreciate gulls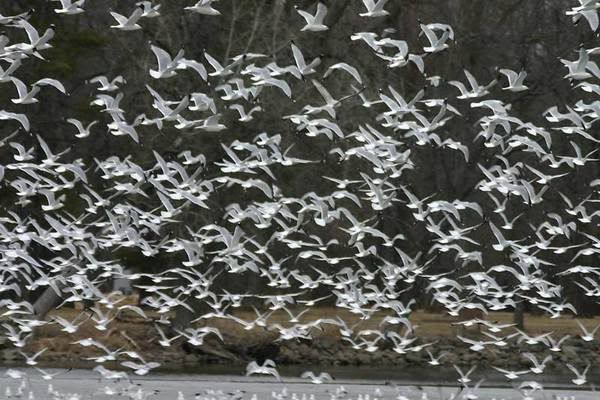 I've never paid that much attention to gulls. Of course I know they are more than "just gulls," but they are so difficult to identify. Essays and chapters in birding memoirs bemoan the difficulty of gull ID, and I'm still dealing with the difference between say a Cooper's Hawk and Sharp-Shinned. Don't complicate matters with white birds that eat dead fish!
The last couple weeks have slowly worked to change my mind. For one thing, watching gulls has already netted me two new life birds, a Thayer's Gull and the Lesser Black-Backed Gull. I've been spending time hoping to catch a couple more, including one that is only the fifth recorded sighting in Wisconsin, the Glaucous-Winged Gull; the one that has brought people from other states to a little bay in our little river town.
I've already mentioned the coincidental
sighting of a human Nuthatch
while looking for gulls about a week ago. This past Tuesday evening, Dan Jackson's sighting of the Glaucous-Winged Gull came across the listserv, along with decent photos to document his finding and add his name to the state records. By the time I'd read email, it was dark.
Wednesday Dan called from Richmond Bay to tell me what he was seeing. I had to go to church! Even on the way there, my husband asked me, "Aren't you going to try and see that bird?" I knew that by the time I'd get there, the light would be failing. Failing light is not a great way to try and pick out one white bird from several hundred others.
Thursday. I was hoping, but a meeting after school went on far too long. Yesterday I took the long way home, by way of Richmond Bay. I wasn't really dressed for birding, coming as I had from work. Friday is usually Jeans Day, but because I had two parent meetings, I had to dress "nice." Still, I was going to do my best.
Not long after I arrived, a fellow came down the hill to the boat landing carrying a scope. He had come over from Sauk City, about 1.5 hours from here, hoping to spot the Glaucous Winged. We chatted for a bit as we searched the flocks. There's something almost comical about watching gulls. For one thing, when you have such large concentrations of them, the noise is incredible. They really
do
sound as if they're crying "Mine, Mine, Mine!" like the gulls in
Finding Nemo
. Then there's the whining calls. Every so often, one of the numerous Bald Eagles will swoop over, setting them all to holler and swirl up from the ice, then settle back down, returning to fighting over the various dead fish delicacies the winter fish kill has been thoughtful enough to leave on the ice.
The fellow from Sauk City told me he'd taken to gull watching and grew to really dislike the Bald Eagles for their harrassment of them. It does make methodical flock searching a challenge, but it's also a bit amusing to watch the Eagles, our majestic national symbol, dining on dead fish among the gull flock.
The fellow with the scope picked out the Lesser Black-Backed, just about the time Fred Lesher came down the hill. Fred has seen the Glaucous-Winged, but he was checking again anyway. As I've been told, you never know what you might see here during ice-out.
About an hour's worth of looking yielded nothing new in the way of gulls. Fred was heading out as well, and he was even dressed better for the circumstances. I was starving, telling him, "I need to get going and go eat Friday fish."
Fred made one pointed observation.
"I don't know if I'd want to eat fish after standing here and watching
them
eat fish!"
He had a point. My husband and I later went out for Chinese instead. Spending time looking for these gulls has cemented in my mind one other point; I need a scope. Fred says I need a scope.
Dan Jackson says I need a scope. The fellow from Sauk City says I need a scope. I never thought I did, since my birding tends to be more active, but for times like this, when one is trying to pick out that life bird from a flock of a thousand similar looking birds....I need a scope!