It's starting!
Change has been in the air the last few days. Sure, there was the small matter of that snowstorm last week, and the threat of more tomorrow. So what? Last week's snow is completely gone already, and the air is warm now, warm enough to roll down the window on the car.
I had high hopes of an early start to my morning, pretending to be the Ivory Bill searcher I was to have been in April by trying to stake out where the Hixon Forest Pileateds might be nesting. No such luck. Arriving at the trailhead by 7am or so, I was met with signs--"Trails closed due to bad conditions." I noticed there were a few people ignoring the signs, but the trails were indeed in signficantly mushy shape. I didn't want to contribute to potholes in which I might twist an ankle later in the spring, so instead I birded the perimeter of the parking area. Several Tufted Titmouse were present, singing away and treating me to close looks a few times.
Overhear, a pair of Red-Tailed Hawks were doing their courtship ritual; circling, then diving fast, only to reappear moments later over the canopy to repeat the sequence again.
Since woodland hikes were out of the question, I headed over to the wetland instead. Though there were still large areas of thin ice, the Canada Geese were present in uncounted numbers, their honking almost deafening at times. Watching them as they swam through the ice, then broke through to paddle across to join the party, I simultaneously laughed at their antics while cheering their recent return.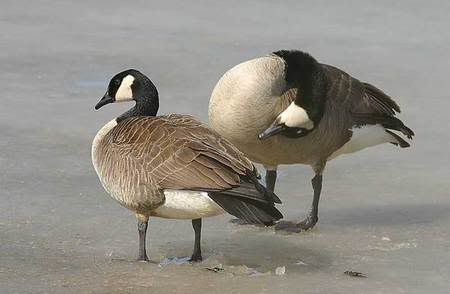 Almost everywhere I hiked, they were present. I traveled further along the Wood Duck Trail that skirts the southern edge of the marsh, and stood in place several times, enjoying those avian songs silenced these last months of winter birding. Cardinal, Goldfinches, Brown Creepers, Dark-Eyed Juncos singing and chasing each other through the underbrush. With my early start, no other hikers or joggers were present to interrupt the chorus.
Looking out to the cattail beds, it was clear who was in charge this morning. Red-Winged Blackbirds sat atop the highest perch in their corner of the marsh, pumping out a song to declare that this spot was theirs. It made me laugh, since I'd spent quite a bit of time in January playing RWBB calls to practice imitating them for my original porquoi tale. How could I have forgotten that unforgettable sound? Here it was, in all its raucous glory, surrounding me on this morning that was becoming increasingly warm.
I wandered all my trails through the marsh, including the deer paths that criss-cross the sedge meadows. Mallards, Hooded Mergansers and even a few Wood Ducks joined the cast of thousands of geese. Kildeer could be heard, maybe even a Snipe or Woodcock. My coat had to come off, tied around my waist, the weather now early spring balmy.
The quintessential harbinger of spring made his presence evident with frequent song, punctuated by the whinny call. One of its representatives stopped in his morning routine to look at me as if to say, "WHAT? You thought I'd stay down in that tropical heat all summer? You crazy?"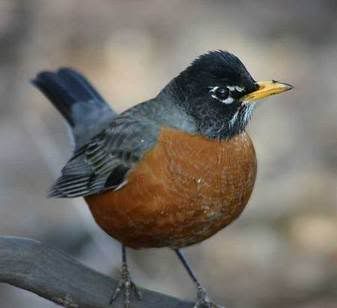 Though the calendar says there are a few more days, the birds are beginning to tell me that spring is here.
Spring is bursting out on other blogs, too. Check out--
Cindy Mead's Sandhill sighting in Michigan
Mike McDowell in the Madison area
EarthHomeGarden
Endment
Thomasburg Walks