Nuthatch sighting!
If you're a regular reader of my ramblings, you might be wondering, given all the previous photos of White-Breasted Nuthatches, why I'm excited about yet another sighting. If you're really curious and want to know why, you'll have to read on.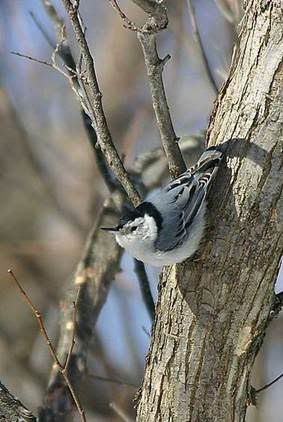 In the current issue of
Wild Bird Magazine
, Pete Dunne lists "Twenty Important Catalysts." I saw that title and was eager to read what his list included. I recently read Kenn Kaufman's
Kingbird Highway
, and he shares right away that the year when he did his big birding trip was a year on the cusp of big changes in the pastime. He was birding in more "innocent" times, when person-to-person networks and hard work, along with knowing your birds, would make or break Big Years. As he says, we're now in the age where anyone with unlimited money and time can make a good stab at these records.
One of the reasons this is true is change number 7 on Pete Dunne's list--the internet. Instead of waiting for the monthly or quarterly listings of interesting sightings in the various organizational newsletters, anyone signed on to a state or regional birding listserv can learn almost immediately where to go to see the cool birds others are seeing.
I'm certainly not immune from the lure of the internet. In fact, it was an internet posting by Dan Jackson, who's already gifted me with two life birds, that led me to Richmond Bay after work. The day before, Dan had spotted an Iceland Gull hanging out with about 500 Herring and Ring-Billed Gulls on the ice. I couldn't take advantage of his news, trapped as I was at school on parent-teacher conference night. At work the next day, peeking again at the
wisbirdn-list
, Dan was reporting a new sighting of an adult Lesser-Black Backed Gull, along with a Glaucous Gull! I'd brought my binoculars and camera to work in anticipation of looking for the Iceland on my way home.
Off I went, driving right through LaCrosse rush hour traffic, rather than my preferred rural route over the bluffs. Any time one of these internet posts appears, I can just about guarantee that whenever I'm able to arrive, there will be other birders there. Today was no exception. In fact, I've done this sort of thing enough times now that I don't even need to ask people who pull off if they're looking for the birds. I can just tell, and the conversation gets right down to business!
So it was that I stood at the edge of the bay, peering through my binoculars as I watched about a million Bald Eagles amusing themselves by chasing after twice as many gulls hanging about on the ice. Try as I might, I couldn't seem to make any of those gulls into one of the three I sought. As I tried to will black primaries into white, a couple pulled into Bob's Bait and Tackle and walked over. Not even asking if they were birders, I simply said, "I'm not seeing anything." We chatted a bit more, then the woman asked me "Are you Gwyn?" I guess the little photo in my sidebar is probably a big clue, but I still am momentarily astonished when someone I've never met seems to know my name.
I told her I was, and she said, "I'm Nuthatch."
I had to think for a quick moment. Nuthatch? Of
Bootstrap Analysis
? Didn't she live in Michigan? Surely she hadn't traveled THIS far for three gulls!
She hadn't. They were in the area for other reasons, but had checked the internet listings and came to see if they could find the gulls. In a world without the internet, this would truly have been a first meeting for us. However, this
is
the world with internet, and both of us have been active bloggers in the nature blogosphere. We've shared space on various editions of
I and the Bird
. We "know" several other bloggers in common and consider some of the same people, like Cindy of
Woodsong
, as friends. Now we can say we've met in the real world as well. The internet can be a bane or a boon, depending on how it's used. I'm glad that my use has been mostly of the latter sort; that use allowed me to turn a day without any life sightings into one with the sighting of a very unique species of Nuthatch!
Nuthatch, if you're reading this, it was a treat to meet you beyond the computer screen. I hope your travels were safe and that we meet again some day.