A glorious good lucky day!
Sometimes we get lucky. Sometimes. My day off this past week was Tuesday, a glorious blue-sky early spring day, one in which everyone seemed to enjoy peeling off that outer layer of sweatshirt or jacket. Not having wandered the south trail at Goose Island in some weeks, I wanted to take a little hike to see what I could see.
Clearly, things are warming up. When last I went down this trail, I was valiantly trying to pull off some
late season cross-country skiing
. Not a spot of snow now, not even in the shade. The riverbottom forest was alive with woodpeckers drumming. I gave up even trying to count the Downies, but they had company; Hairies were also around, a Red-Bellied was heard and Pileateds, as usual, were not seen but clearly at work.
As I walked along, I heard a new sound. Was it a Tufted Titmouse? No, not quite right, and too many of them. When I localized the call, I realized there were multiple callers, all centered on a low, swampy area. Spring peepers! Tentative to be sure, but warming up, joined by a few hardy chorus frogs!
Out in the sloughs, I watched ten lazy Tundra Swans, mostly with their heads tucked under a wing. Just above the treeline, a Rough-Legged Hawk entertained me for a time as it hovered and dove, only to repeat this sequence several times. At last, it dove, then disappeared into the trees, probably to enjoy lunch.
Then I heard an unmistakeable, yet not identified, song. There! Near the open water, in some shrubby growth! I
know
that song. What
is
it? It's been months, I can't remember!
"Maids, maids put on your tea kettle-ettle-ettle!"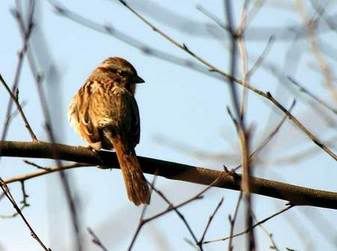 That's right! Song Sparrow! I enjoyed hearing this music again, creeping ever closer for photos until he gave me this backward glance before darting down to cover near the ground. I can't wait to go out again to see and hear who has returned from points south.

I also can't wait to really sit and enjoy the latest installment of
I and the Bird
, hosted by Nuthatch of
"Bootstrap Analysis."
Lots and lots of new blogs are gathered here, and just for the record, she did not solicit my submission! Enjoy some of the best in recent bird blogging.