Art of birding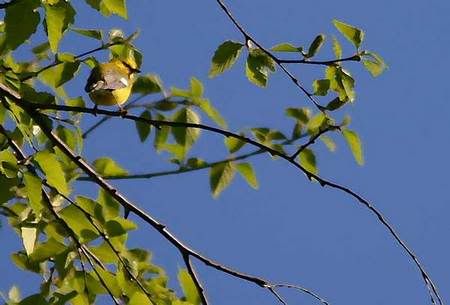 Often when I go out, I can be seen lugging my big Sigma zoom lens along with my binoculars strapped around my neck. I've become fairly adept at managing this behemoth in challenging terrain, as I did on Friday at
Rush Creek Scientific and Natural Area
. I've spent most of the past three days enjoying the company of like-minded souls during the
Third Annual Mississippi Flyway Birding Festival
, and Rush Creek was my Friday morning field trip. It's challenging enough for me to get anything resembling a decent photo when I bird alone and can take my time to sit and wait. Photography in groups is almost impossible, since I want to take advantage of the eyes, ears and experience of many in the group to learn. We enjoyed views of a number of birds, including nice looks at an Eastern Towhee, numerous Yellow Warblers, many singing Scarlet Tanagers, a flock of chasing Blue-Winged Warblers and a pair of Yellow-Throated Vireos that allowed everyone a very satisfying look at this bird that is more often heard than seen. But photos? Nope, not really. I've been learning to really appreciate the "artistic filters" in Photoshop to freeze a moment in time without appearing to be a total incompetent in the photography department.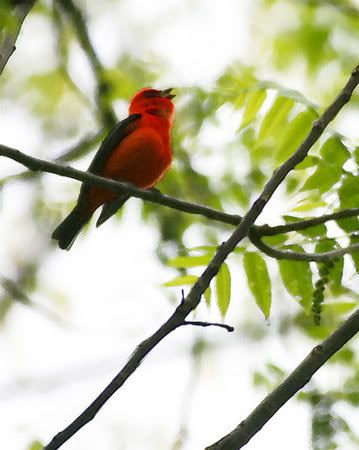 There are times I wonder why in the world I even bother, those thoughts amplified when I wander to places like the
Nature Photographers Forum
, where the talent is immense, the images crisp, full of personality and wonderful detail. I'll remind myself I do this for myself, but still...
Friday afternoon, after our morning field trip, I attended Dan Jackson's seminar on digiscoping. I'm in the market to get a scope, and who knows, maybe I'd want to try that. As Dan shared some of his wonderful images, he stopped at one of an American Coot, and commented that "Photographing birds helps you to appreciate and take a new look at those 'common' birds."
Suddenly, I realized why I persist in spite of my constant frustration and disappointment with 99.9% of the shots I take and keep. I persist, because it lets me enjoy all the birds, forces me to slow down, watch, wait and observe...and .01% of the time, get a photo I love. I persist, because it helps me keep sight of my goal in birding, which isn't to see the most birds, but to see them well.
Thank you Dan for helping to define the art of birding, as seen through the photographer's eye.