The beginning of the end?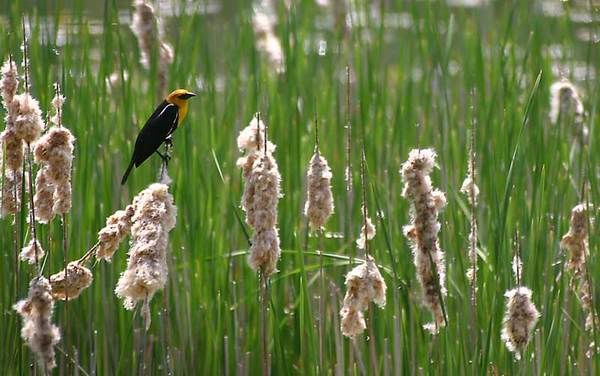 Yellow-Headed Blackbird stakes his claim
After the high of last weekend's Flyway Festival, it seemed almost anticlimatic to be out birding today. I met a new birding friend, courtesy of the festival, and we'd made arrangements to go out together for a little while this morning. Although she's had a cabin in the area for many years, she and her husband have only recently moved here permanently, and she wanted to find out more about the good birding spots. She wanted to get good looks at a Prothonotary Warbler. I knew just where to look.
Bright and early, we met at the flag pole at the entrance to
Goose Island County Park
. I'd intended to take her to a boat landing near a wet woodland where the warblers are always calling. Instead, I heard it calling--right there. After slogging through the dense honeysuckle, we were able to pinpoint it, singing away just above the wet spot, flitting about. In this morning's rain-threatened sky, that golden bird looked electric. Unfortunately, the rain-soaked ground led to huge hatches, with mosquitos, gnats and blackflies in abundance. Time to move on!
From there, we went onto the more open trails of the LaCrosse River Marsh near Myrick Park. I couldn't help but feel a bit wistful, knowing that the migration is nearly over. Save for one Nashville Warbler, any warblers seen were resident, singing and defending their territory. The families of Canada Geese have both shrunk in number and grown in size, not quite so cute and fuzzy now. Tree Swallows could be seen feeding young in their snagtop nests, and the Black Terns were there in abundance.
The spectacle of spring migration seems to have been low key this spring. All over Wisconsin, birders have been asking, "Where are the migrating songbirds?" They've been seen, but in small numbers. The big push never seemed to come, and now the birds have already settled down to family life, becoming quieter and scarcer to find.
Like the spring ephemerals that dot our forest floors before leaf out, the tiny songbirds passing through are a smattering of jewels, their flashy dress and persistent songs enjoyed for but a few weeks. Life will settle down for the birders as well. We've had our feast, savored for its scarcity and fleeting nature.
Though I'd love to enjoy the new life born here before its return trip south, I will respect the space needed by these migrants to rear their young. Some have conjectured that the tepid migration is the result of loss during the fall storm season in the Gulf of Mexico last fall. If so, that's all the more reason to give these families privacy and space. I may not tick off those last five birds needed to reach my landmark, but I'll have done my part to ensure that they have a successful year, returning once more to start the cycle all over.